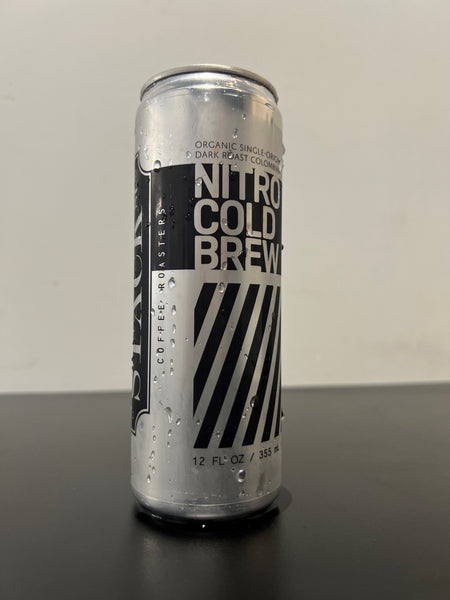 Cold Brew Coffee 12 Oz Cans Ready to Drink
This format is only available for bulk Wholesale or Private Label only at this time.
1000 can minimum. Custom formulations, additives and functionals are an option as well as alternative can and pack sizes.
Please contact us to start your ready to drink cold brew can journey today!



A NEW EXPERIENCE: The Stack Street ready to drink coffee

Experience the smooth, bold flavor of organic cold-brewed coffee in a convenient, shelf-stable can. This 12-pack contains the perfect amount to stay caffeinated throughout the day and can be purchased in bulk for wholesale options. Enjoy the rich taste of cold brew coffee without the hassle.

is a dream come true for coffee lovers who want to enjoy superb coffee but don't want the hassle. The coffee is brewed by our trained artisans to perfection making it your go-to choice for each morning or afternoon.

RICH, BOLD FLAVOR PROFILE: Our coffee beans have been carefully selected and roasted to ensure a smooth well balanced taste for you to enjoy with each sip. Low acidity, notes of brown sugar and milk chocolate. Our coffee contains 100% organic arabica coffee, filtered water, and nothing else!

QUALITY YOU DESERVE: Calling all cold brew and iced coffee lovers! This ready to drink coffee is handcrafted, flavorful, aromatic and made using only specialty grade single-origin USDA organic coffee beans for maximum flavor. Pour over ice and enjoy! Our cold coffee is not just 100% organic but also kosher certified. It contains no added sugar or preservatives so you can enjoy a freshly brewed cup straight from the box. It tastes just as delicious as it sounds!

PRACTICAL PACKAGING: With our cold brew, you don't have to worry about preparing instant coffee or other messy brewing techniques. Instead, we use advanced materials and processes that lets us do all the hard work and keeps the coffee fresh. The integrated spout makes it super easy to pour yourself a delicious cup straight from the fridge after you open the package.

EXCELLENCE: Our methodology is designed to be both tasty and consistent. This cold brewed coffee is a medium roast offering surprisingly smooth taste while still delivering that signature flavor profile you will never tire of. It's all natural and certified USDA organic, grown without synthetic fertilizers or chemicals, meaning cleaner beans, and ultimately a cleaner planet!
Stack Street Coffee is your go-to choice when it comes to excellent cold brew. Made with carefully selected specialty grade single-origin USDA organic coffee, this medium roast is the ticket to a great day. Unlike using coffee beans, ground coffee, or instant coffee, our cold brew coffee requires absolutely no preparation. Just pour yourself a delicious cup whenever the mood strikes. (you provide the cup)

Thoughtfully Crafted Coffee – The Key to Your Morning Routine

Making delicious cold brew requires special attention to the bean's origin & quality, grind size, & roast level as well as an exacting methodology of extraction.
Why bother with expensive brewing devices or takeout coffee when the alternative is so much better? Our 96oz cold brew coffee in a box ensures you enjoy the same great taste with every sip. Enjoy it on its own or mix it with your favorite sweetener, ice, and milk to create your favorite coffee drink.


Cold Brewed = Lower Acid
USDA organic 100% arabica single origin
Notes of brown sugar and milk chocolate, well balanced, & bold coffee flavor
Ready-to-drink
No sugar or preservatives
Stores easily before use


At first glance cold brew and iced coffee seem to be synonymous, however there are three main differentiating factors:
BREW: Cold brew is never heated up. It therefore requires more time and patience than the standard brewing process. Iced coffee, on the other hand, is brewed hot and then cooled down.
CAFFEINE: Cold brew has 2-3x more caffeine than standard coffee.
TASTE: The heating and cooling involved in making iced coffee destroys flavor, often it just tastes like watery, cold coffee. It also causes higher levels of acidity, as opposed to cold brew which has half the acidity normally found in coffee. Cold brew is slightly sweeter, much smoother, and easier on the stomach.

Go ahead and enjoy an outstanding cup of coffee anytime!
---