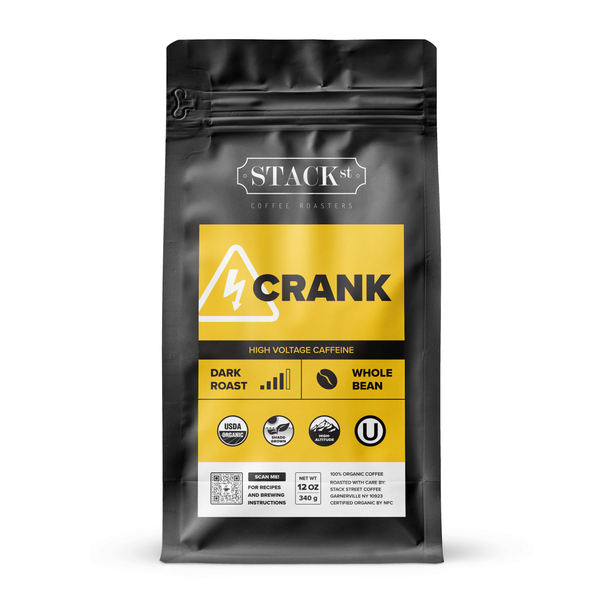 CRANK High Voltage Caffeine Organic Coffee Dark Roast Shade Grown
CRANK:  This roast is made from a special blend of beans with a naturally higher caffeine content, giving you that extra clarity and focus to help you own the day.
TASTE PROFILE:  A smooth brew with a hint of sweetness that packs a punch with double the caffeine of your typical cup of coffee.
ROAST LEVEL:  Dark Roast
CRANK IT UP
___________________________________________ 
crank
verb
Definition of crank
c : to gain speed, momentum, or intensity — usually used with up .
crank up to maximize the moment.
The perfect start to your day (or night), this Stack Street exclusive will provide an instant energy burst of high voltage caffeine. Get that extra boost of stamina without sacrificing taste in this bold, rich cup of joe.
STACK STREET COFFEE, MAKE YOUR DAY EXTRAORDINARY
___________________________________________ 
Stack Street Coffee is carefully curated for java lovers from all walks of life. Our decades of experience working with coffee, and the passion we exude for what we produce is evident in the end product: a perfectly-smooth, evenly-roasted cup each and every time. We are committed to producing that perfect roast to ensure a premium coffee drinking experience. Our assortment of bold, rich flavors come in different strengths and roasts, so there is sure to be something for everyone from the coffee connoisseur to those simply looking for a caffeine boost. So, sip it slow or grab one on the go, enjoy it hot or over ice. We are here to make your day extraordinary.
---